Researchers and practitioners are invited to submit an abstract describing their rigorous work for consideration for presentation during the 17th International Research Symposium on Service Excellence in Management (QUIS 17) which will take place at the beautiful campus of Polytechnic University of Valencia in Valencia, Spain, January 12-15, 2022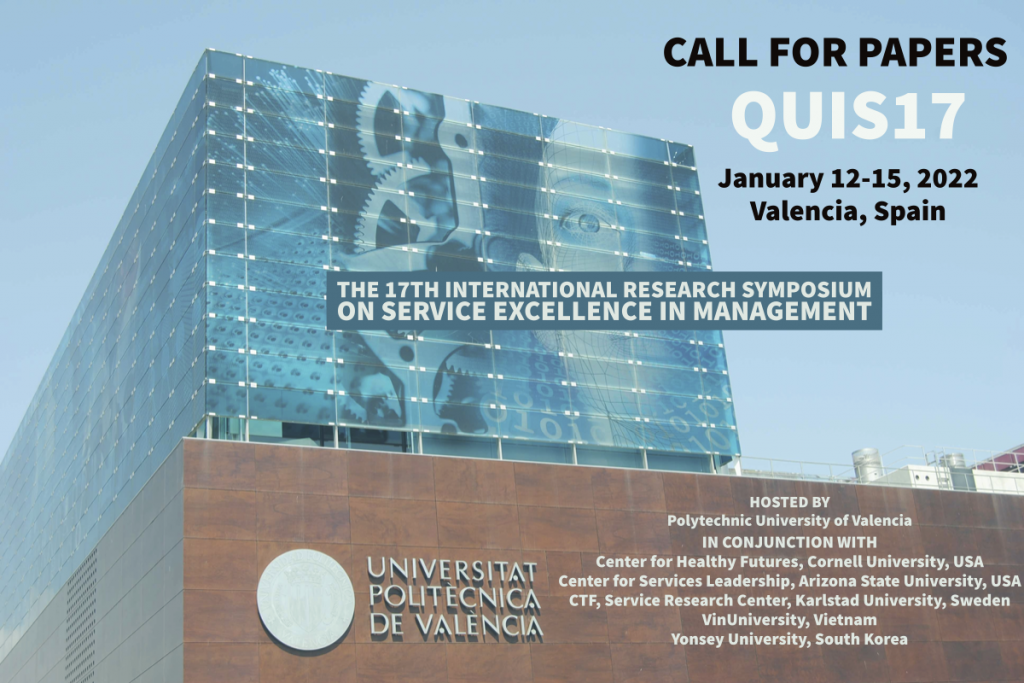 INVITED TOPICS
QUIS17 takes a broad interdisciplinary and international view of service excellence in management and the following topics are welcomed:
Artificial intelligence and robots in service
Base of pyramid (BoP) Service Research
Customer experience
Circular economy and industrial symbiosis in services
Data science for service (Big data or unstructured data analytics)
Digitalization of services
Education service
Environment, sustainability and service
Healthcare and wellness service
Mobile technology and service
Public, not-for-profit and governmental service
Service ecosystem
Service in global pandemic age
Service in manufacturing companies/organizations
Service innovation and creativity
New service development
Service design
Technology and service
Transformative service
Value cocreation
Virtual workplace
Other topics related to service
IMPORTANT DATES
01-Mar-21 Online abstract submission opens
15-Oct-21 Abstract submission deadline
31-Oct-21 Notification of acceptance
30-Nov-21 Complete paper or extended abstract deadline
ABSTRACT SUBMISSION
Abstracts (maximum 500 words) should be submitted online here latest by October 15th, 2021. All submissions will be reviewed by the conference Co-chairs and acceptance will be based on its contributions to theory, research and/or implications for practice for service management. By submitting an abstract, at least one of the authors agrees to attend QUIS17 if the work is accepted. A Best Paper Award will be presented during the conference and selected papers from the conference will be invited for consideration for publication in the Journal of Service Management, Cornell Hospitality Quarterly and Tourism Review.